Well, I for one am wrecked after that weekend. It was a great weekend for the club with the North Tipp Sprint and Visit Nenagh Classic taking place. There was also the top event for youth cycling, Rás na nÓg, on this weekend and Daniel Yon Hin did the club proud up there in Drogheda. Fair play to the huge number of club members that marshaled at the triathlon and it was also great to see big numbers at the race today.
Training: we all probably need a few days to recover after that, but get yourself ready for some more hardship on the bike from Tuesday onwards.
Tuesday – 3 options – Tri club TT league, Limerick Summer League or there will no doubt be a group heading out for a handier training spin.
Thursday: the big one – Nenagh Summer League race 3 – this is where big gains are made on the bike. Pick an easy group to start with and build up your speed over the next 10 weeks.
Saturday: our club spin is back at 9:00 from the hotel
Sunday: training spin at 8:00 or racing in Currow, Co. Kerry (flat course).

Also junior racing in Currow – leaving banba 8.30am on sunday
Race Reports
Rás na nÓg: Daniel Yon Hin was the first Nenagh CC youth cyclist to represent the club in this youth stage race. This race brings all the best youths from across the country to Drogheda for some highly competitive racing. Lining up on the start line is a big achievement in itself. However, finishing 15th in the country is even better. Take a bow Daniel, that was a very impressive result. There were well over 50 cyclists in the U/14 category so he has taken a lot of scalps!
Here is Daniel's take on the race……..
"I traveled up to drogheda on Saturday for Ras na n'óg a two day event with three stages. The standard of cyclists was very strong with a total of 56 in my race. Stage 1 was a 1.8 km circuit x8 and I finished in the 2nd group, stage 2 was 6.5km circuit x3 laps the course was hilly so it was a lot harder I just finished a couple of seconds behind the the top group . Stage 3 was a 7.6 km circuit x3 laps ,the course was a nice flat course this was my best race as I finished in the top group. My overall placement was 15th out of 50+, it was a great experience and I really enjoyed it"
Visit Nenagh Classic
There were 16 club members in racing action at this one.
A1/A2: the big race of the day saw Dan, Kenneth, Shane and Mike taking on a gruelling 165km race route. Just finishing this race is an achievement as there is a huge drop out rate due to the difficulty of the course. The 4 lads all knew the route well so they knew what pain was in store.
An early break meant that the pace was very controlled for the first 80km or so. It wasn't until the bunch reached Coum that things really kicked off. Dan and Kenneth's race had finished at this stage with Kenneth unluckily puncturing out as the pace ramped up after Coum. It was a tough slog out to Birdhill, Ballinahinch and back to Nenagh.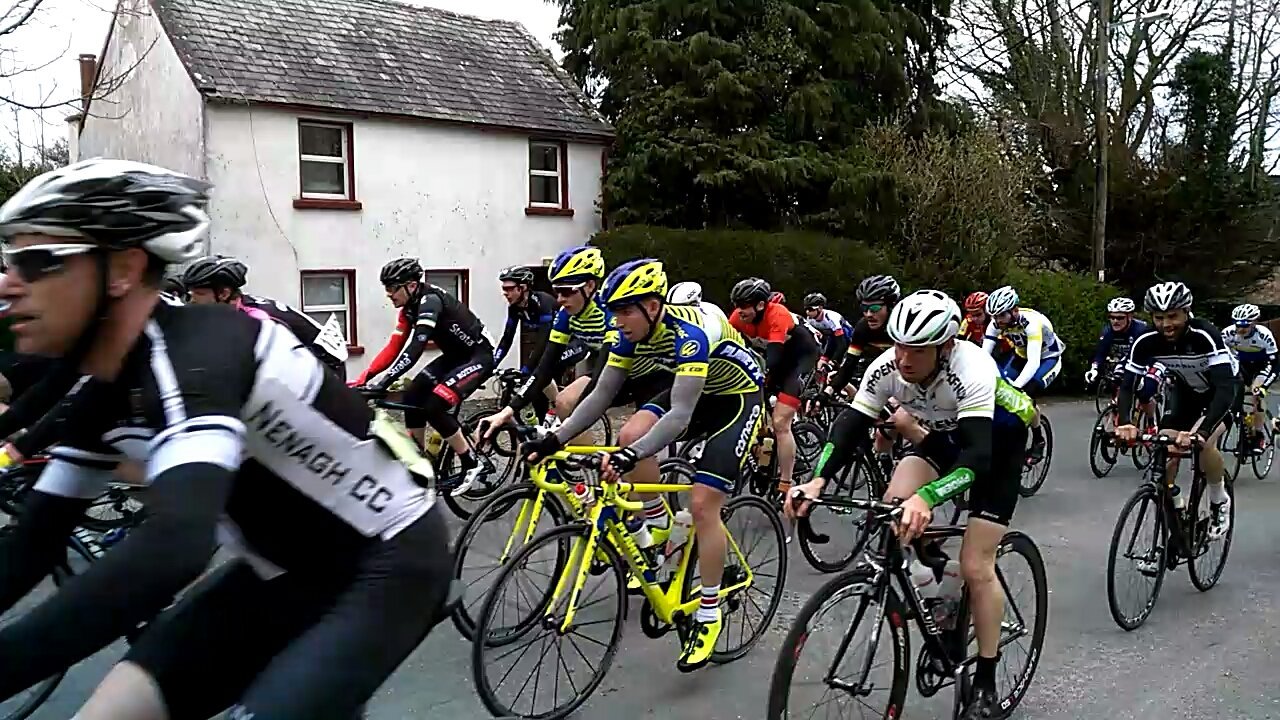 The group was greatly reduced coming back through Nenagh but Mike and Shane were still well placed. The next major hurdle was the ascent of Killeen. A crash at the back of the bunch held up the two boys at the start of the climb. Shane managed to bridge the gap to the front of the bunch but unfortunately there were 4 or 5 lads off the front in another break.
On to Seáníns and there were just 7 left in the break out front and next was Shane's groups with about 13 in that. Mike was in the next bunch back. Both lads climbed well and stayed with their groups. All that was left was the final 10km home from Toomevara. Coming into Nenagh, Shane was battling for 8th place as he turned onto Pearse St. He passed some and was passed by others and had to settle for a 13th place finish. This got him into the prizes and bagged some more National Road Series points. Mike finished a few mins later in the next bunch. He would have been one of the first A2 riders home so congrats on that!
A3: Denis Allen, Eoin Woolley, Con Kennedy, Matty Kennedy, Tommy Hanrahan and Eamon Hartnett made up our team in the A3 race. This was a strong team so we were hoping for some good results. Matty Kennedy raced well today and found himself in a break away for a while. That break would eventually be reeled in but Matty hung on in there to finish in the well depleted main bunch. Also in that bunch coming into the finish was Denis Allen. Denis has improved a huge amount over the last few months and was very strong here too. He finished just outside the prizes in 17th place. Cramp, broken chains, punctures  took out the rest of our A3 team. Nevertheless, it was still a good performance.
A4: Brian O'Neill, Aidan Killeen, Charlie Hogan, Donnachadh Floyd, and John Gleeson all took part in the first race of the day. Brian O'Neill was our best performer with a top 20 finish on what was a very hard A4 route. A few of our lads were caught behind a crash on Army Hill and had a tough time chasing back on. They made it back but had to burn too many matches in doing so. This group of A4 riders are relatively new to racing, so much was learned and they will all improve for having done it.
Women's Race: Sinéad Kennedy was our sole representative in this race. Sinéad had one of her best races to date here. She found herself in an early break but they were caught just before Army Hill. This is a bad place to be caught but she made it over the top easily in her group. Bad positioning on the Killeen climb meant that she missed the breakaways that went off the front. She worked hard with the rest of the bunch all the way back to Nenagh and finished in 11th place.
 Now everyone go and put your feet up for the rest of the day. You've earned it!